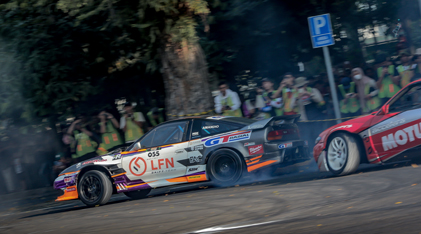 The Manahan Stadium in Solo, Central Java, came alive during the exhilarating 2023 INDONESIAN DRIFT CHAMPIONSHIP (IDC) National Championship. Drawing in a crowd of automotive enthusiasts from Solo and across Central Java, this event showcased thrilling battles among numerous national drifters who captivated the audience with their unique style of motorsport drifting.
Emmanuelle Amandio, the renowned international drifter representing GT Radial's Lintas Fortuna Nusantara (LFN) Drift Team, once again displayed his exceptional skills at this prestigious national drifting event. Despite facing formidable competition throughout the duels, the GT Radial Champiro SX2 proved its dominance against rivals. Amandio's unwavering performance led him to secure an impressive 1st place in the Pro 1 class and claim the overall championship.
In addition to Amandio's triumph, Ayuni, an emerging talent from a racing school supported by GT Radial, made her mark as a female racer. With the support of the GT Radial Champiro SX2, Ayuni showcased her exceptional skills, securing a commendable second place in the beginner class.
The IDC Round 2 at Manahan Stadium was an unforgettable spectacle of skill, speed, and adrenaline, with GT Radial reaffirming its dominance in the world of drifting. As the brand continues to support and nurture talented racers, the future looks promising for GT Radial and its unwavering commitment to excellence in motorsports.