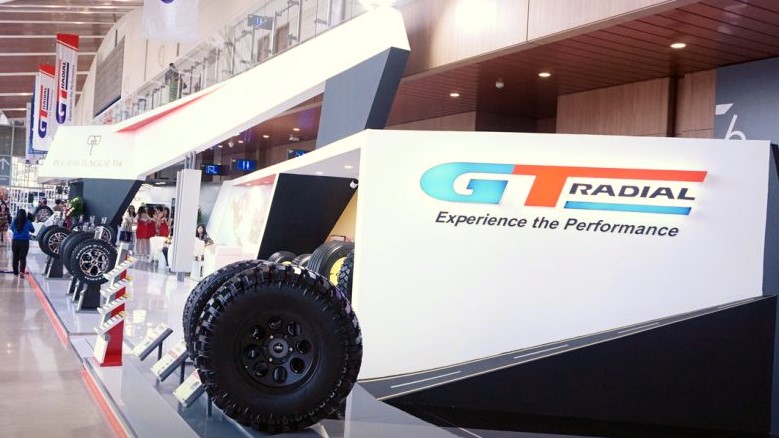 Jakarta, July 18, 2019 - Carrying the theme "Moving towards the Future", PT. Gajah Tunggal Tbk, the biggest tire manufacturer in Southeast Asia continued to participate the Gaikindo Indonesia International Auto Show (GIIAS) 2019. Gajah Tunggal appeared for the fourth time at the event which was held at the Indonesia Convention Exhibition (ICE) in BSD, Tangerang, Banten, from July 18 to 28.
GIIAS 2019 brought the theme 'Future in Motion', which is defined as a movement of technological influence on electric, autonomous, and digital vehicles. As a company that supports the development of technology in the automotive field, Gajah Tunggal represents the theme of the event in a booth at the hall of ICE Hall 5, BSD.
With the current digital development, the tire company which has been established for more than 65 years also prioritizes the speed of information and distribution by continuing to develop retail authorized stores namely Tirezone. Gajah Tunggal has also designed a digital platform that will facilitate customers in finding information related to appropriate tire products.
"In line with the GIIAS 2019 theme, we continue to move forward by developing new ideas and things by adjusting the current market trends to continue creating new innovations," said Leonard Gozali, Head of Marketing Division of PT Gajah Tunggal Tbk.
In GIIAS 2019, Gajah Tunggal introduced a new tire, the GT Radial Champiro Luxe. Designed with emphasis on tire performance, comfort and low noise levels while driving, Champiro Luxe is made with asymmetrical developments that maximize traction on both wet and dry roads.
GT Radial Champiro Luxe is intended for medium to premium class passenger car made with block pattern design that can provide better driving stability when maneuvering and cornering.
Also presented special tires Sport Utility Vehicle (SUV) cars that are superior in its class, Savero SUV and high performance tires, namely Champiro HPY. The reliability of tires with excellent quality has made GT Radial able to compete in global and international markets for more than 25 years. As of now, the pride of this nation's car tire products has been exported to more than 130 countries.
To enliven the GT Radial booth at the biggest automotive exhibition in the country, GT Radial offers a variety of attractive offers at competitive prices. For every visitor who buys tires will get discounts and prizes directly at the booth.