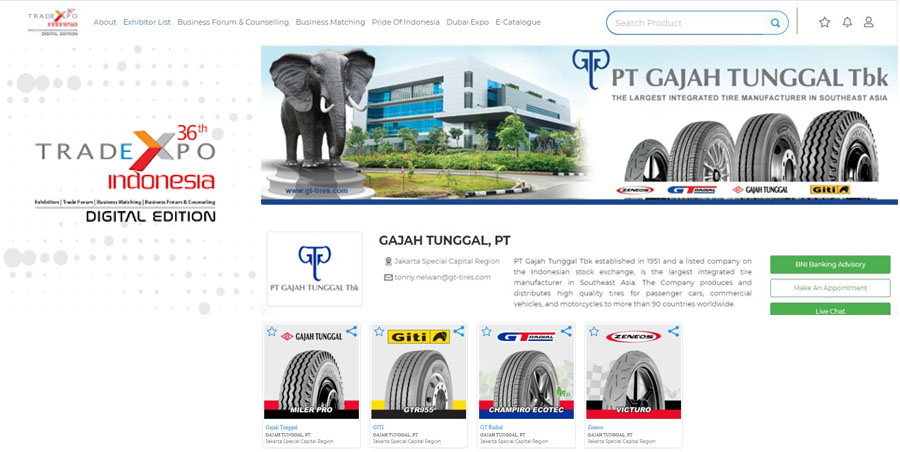 Ministry of Trade continues to strive in opening its market to the world aiming to boost the export performance by changing the conventional Trade Expo Indonesia (TEI) model to Trade Expo Indonesia Digital Edition (TEI-DE 2021).
TEI- DE 2021 Digital Edition is the government's effort to keep the Indonesian economy running in the conditions of Covid-19, especially the trade sector, in line with President Jokowi's direction in reinforcing the global trade / export. This event is Indonesia's largest trade fair that focuses on B2B designed to boost export product growth and export market expansion via online exhibition platform for the global market to develop business networks, investment and showcases of Indonesian made premium and best products.
PT Gajah Tunggal Tbk. through GT Radial products (PCR tires), GITI (TBR tires), Gajah Tunggal (TBB tires) and Zeneos (motorcycle tires) were also present at the Trade Expo Indonesia Digital Edition exhibition.
GT Radial provides a complete range of tires for almost all types of passenger vehicles, from ultra-high performance cars to luxury touring sedans and crossovers to SUVs and light trucks. A leading global tire company serving consumers in more than 90 countries around the world. GT Radial has obtained the premier international certification for its products in terms of quality and safety.
Giti tires are used in nearly 100 countries around the world, and a wide variety of truck fleets and organizations rely on Giti tires for their business transportation. Through excellent products, performance and support services, Giti has a reputation for quality, performance and safety.
Gajah Tunggal is a bias tire brand intended for commercial vehicles. This product is produced by the Company and until now the Gajah Tunggal brand remains the leading brand used in several transportation, plantation and mining companies. The Gajah Tunggal brand bias tire has always managed to maintain its position as the market leader in Indonesia.
Zeneos motorcycle tires, developed with a combination of AGD (Advanced Grip Design) technology and HSG (High Speed Grip) compound. This combination makes Zeneos a sophisticated tire. Riders will experience style, safety, comfort and performance during their daily commute. Zeneos tires are fully certified with the following domestic and international certifications: SNI, ISO, DOT and E-Mark.