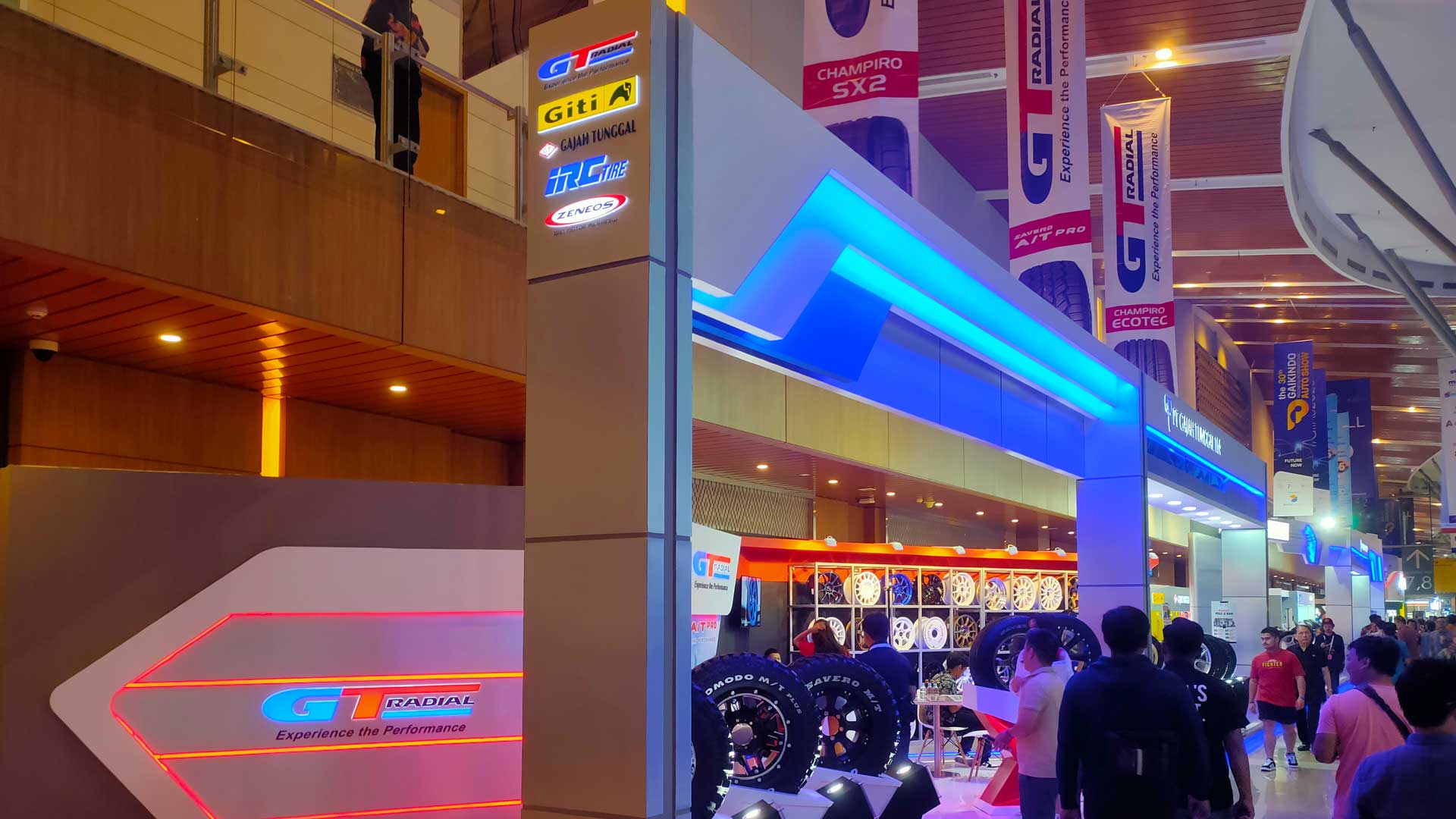 Jakarta, 10 August 2023 - PT Gajah Tunggal Tbk, Southeast Asia's leading integrated tire manufacturer, is delighted to announce its participation today in the 30th Gaikindo Indonesia International Auto Show, taking place from 10 – 20 August 2023 at ICE- BSD City, Tangerang. This year, under the theme "Rolling Towards The Future," PT Gajah Tunggal Tbk is unveiling its diverse brand portfolio, which includes GT Radial, Giti, Gajah Tunggal, IRC tire, and Zeneos.
At the show, GT Radial (@gtradial) introduces its newly launched Savero A/T Pro, an all-terrain SUV tire based on Nano-Tech compound technology. This tire boasts robust grip, wear resistance, and reliable performance on both off-road and on-road terrains. Moreover, it offers reduced rolling resistance, promoting enhanced fuel efficiency.
The new and improved GT Radial Champiro SX-R with superior Treadwear 200 is another highlight. This high-performance tire, designed for speed and competition, caters to both racing enthusiasts and everyday users seeking ultra-high performance. Its effectiveness is proven, having been used by Toyota Gazoo Racing Indonesia to achieve podium finishes in various racing events.
Furthermore, GT Radial is showcasing its luxury comfort tire, "The Champiro Luxe." Trusted by original equipment manufacturers, it's fitted on the new Toyota Innova Zenix (both Hybrid and non-Hybrid models), making it an ideal choice for sedan and MPV drivers seeking a long-lasting, noise-free, superior comfort tire that meets the highest safety standards.
Significantly, we are exhibiting the GT Radial Champiro ECOTEC EV tire, tailored specifically for electric cars like the Wuling Air EV. This tire symbolizes GT Radial's commitment to sustainable innovation, spotlighting advanced technology and design to address the needs of electric vehicles.
Our Giti brand (@gititiresindonesia), renowned for its truck and bus radial tires, is also on display, alongside Gajah Tunggal's (@gajahtunggal.id) bias tires. Motorcycle aficionados can anticipate our IRC tire (@irctire), Indonesia's no.1 motorcycle tire, and Zeneos (@zeneos_tires), a lifestyle-focused motorcycle tire.
IRC is re-introducing its MBR 110 tire, a daily tire using a soft compound, delivering safe and comfortable performance suitable for scootics, underbones, and sport motorcycles. Zeneos is also showcasing its newly launched product, the Zeneos Roadmax, an environmentally friendly new-generation dual-purpose tire with Advanced Grip Enhancement Design. This tire ensures safety and comfort across diverse road surfaces and weather conditions.
Visitors can explore and learn about our wide range of products from various brands at the PT Gajah Tunggal Tbk booth, located in Prefunction Hall 5-6. Additionally, we are offering a range of exciting promotions, giving visitors a chance to win exclusive merchandise from GT Radial, IRC, and Zeneos.
PT Gajah Tunggal Tbk, exporting to over 120 countries globally, excels in manufacturing top-quality tires using state-of-the-art technology for both local and international markets. Our distribution channels encompass authorized distributors and our retail networks, such as the TireZone, TireXpress, and MotoXpress outlets spread across Indonesia. Moreover, we've formed partnerships with various OEMs, supplying them with premium-grade tires for their vehicles.
"Our presence at this year's GIIAS is a testament to our commitment to leading the tire industry towards a sustainable future. We actively support and participate in the automotive exhibition to bring the community closer to our innovative new products, and to demonstrate our support for OEMs and distributors," said Leonard Gozali, Head of Marketing Division, PT Gajah Tunggal Tbk.