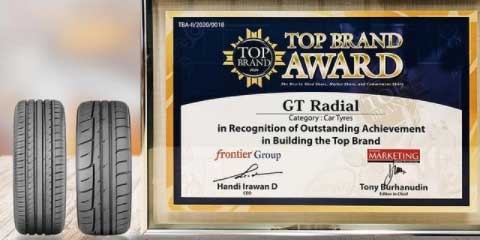 PT Gajah Tunggal Tbk has again won the TOP Brand Award 2020 through the car tires category brand, GT Radial. The submission of the 2020 Top Brand Award was received directly by Leonard Gozali, as Head of Marketing Division of PT Gajah Tunggal at the Dharmawangsa Studio on Tuesday, August 4, 2020.
The success of GT Radial in winning the 2020 TOP Brand Award proves that this brand is able to meet three index measurement parameters, namely Top of Mind Awareness, Last Used and Future Intention. The assessment of the index parameters involved 12,200 respondents from 15 cities, namely Jakarta, Bandung, Semarang, Surabaya, Medan, Makassar, Pekanbaru, Balikpapan, Palembang, Samarinda, Denpasar, Jogjakarta, Malang, Manado and Banjarmasin using interview and questionnaire data collection methods.
As many have known, GT Radial is an original Indonesian car tire product that has won various awards and has become the trusted OEM tire for various leading car manufacturers in Indonesia. In addition, GT Radial is also not only developing in the national market, the country's national pride tire brand have exported to more than 130 countries in the world.