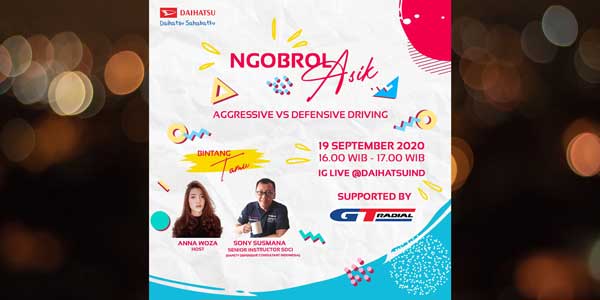 Daihatsu and GT Radial once again held a Safety Driving event with the theme "Aggressive VS Defensive Driving" which was shown directly by all Daihatsu friends through the Instagram Live channel @daihatsuind account with the title Fun Chat on Saturday, September 19, 2020.
Sony Susmana, a Senior Instructor from SDCI (Safety Defensive Consultant Indonesia), was the source for the webinar, inviting and educating drivers to drive defensively and safely to avoid road accidents caused by aggressive driving style.
Aggressive driving is usually dominated by beginners who are generally young drivers who have unstable emotions and often 'show off'.
The characteristics of aggressive are; speeding at inconsistent speeds, zigzagging without giving any signals, rough accelerations and decelerations. Based on accident statistics in Indonesia, aggressive drivers have the highest accident rate of 55%.
To drive defensively on the other hand, is quite easy. Always think positively, tolerate, be polite, considerate, keep your vehicle in distance, control speed, emotions, driving time management, think safety for others.