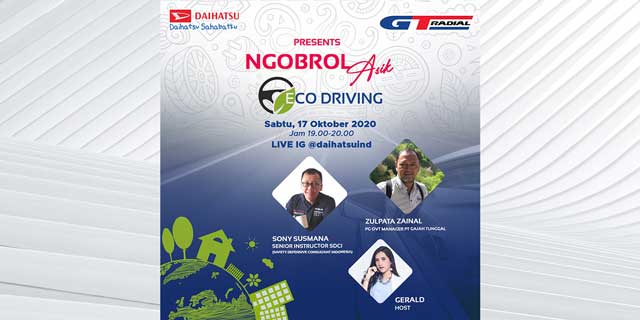 Daihatsu and GT Radial held a tips sharing event "Cool Chat" through the Instagram Live channel at @daihatsuind on Saturday, 17 October 2020 with the theme "Tips for Eco Driving" driving techniques to optimize fuel efficiency with Zulpata Zainal, GT Proving Ground On Vehicle Test Manager and Sony Susmana, Senior Instructor from SDCI (Safety Defensive Consultant Indonesia).
The talk show include the various benefits of Eco Driving and its environmentally friendly values such as Fuel Saving, reducing of pollution levels, minimizing potential risk of accidents on the road, making car components last longer to save on users' daily driving costs, heating the engine for just 1 minute, driving as safe as possible and maintaining a constant speed of around 60-80 km / hour and RPM at 2,000 rounds.
In addition, not forgetting to also keep distance from other vehicles and use the engine brake for deceleration, adjust the ideal AC temperature in the cabin, turn off the engine and open the window if you are waiting in the car for more than 5 minutes and it's important to do regular vehicle maintenance and using the recommended vehicle fuel.
Choosing the right type of tires is also an important factor in supporting Eco Driving. GT Radial Champiro Eco is produced using environment friendly raw materials and tread pattern that is specially designed to provide low rolling resistance without undermining the good qualities and performance of driving.