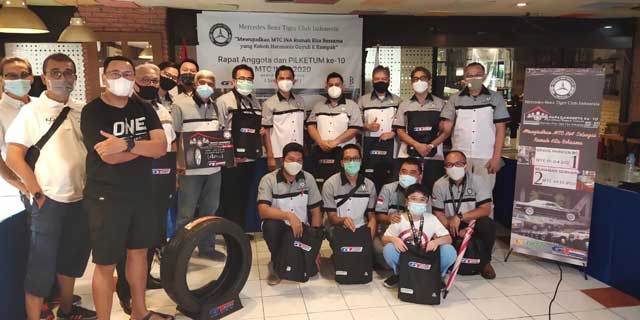 Mercedes-Benz Tiger Club Indonesia (MTC INA) or W-123 varian, also known as Classic Mercy Tiger Club, is a sub automotive section under the Mercedes-Benz Club Indonesia.

The impact of the COVID 19 pandemic this year has affected most of the planned activities locally. This include MTC's General Chairperson Election Day 2020-2023 which was originally scheduled for May 2020 and had to be postponed to December 2020.
The election day entitled "MTC INA Our Home Together" was done in 2 ways; Offline (Dapoer Restaurant), and Online (via Zoom). Invitations were limited to only 25 participants for the offline attendance meeting. To ensure all attendees are in healthy condition, they must take Rapid test before attending the event without exception. Other strict protocols such as wearing a mask, washing of hands and physical distancing between members are also expected from the organizers.
Voting was conducted online. Majority of votes goes to one of MTC INA's senior member: Erwin Princen BS to be the next General Chairperson of the MTC INA for the 2020-2023 period. GT Radial continues to be a part of MTC INA's close partner at the same time to also educate and promote its extensive product range to its members.