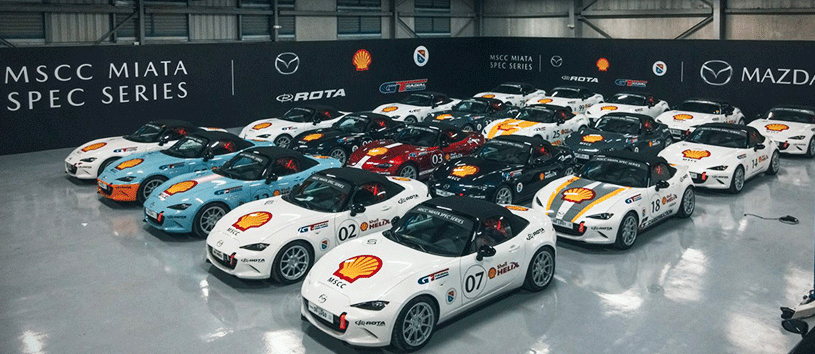 Mazda Philippines, Manila Sports Car Club (MSCC) and Clark International Speedway (CIS) have collaborated to hold the Philippines' first one-make sports car racing series. The MSCC Miata Spec Series 2022 will be the official racing event of the country's premier sports car owner club starting this year. It will feature 20 new Mazda MX-5 track-tuned open-top sports cars for MSCC members to race exclusively.
Sponsored by Pilipinas Shell Petroleum Corporation (PSPC), GT Radial tires and ROTA Wheels, the MSCC Miata Spec Series 2022 season will include four race weekends starting on June 11 at Clark International Speedway. The other three race dates are August 27, October 22 and November 26. All races will be held in CIS.
All MSCC Miata Spec Series cars will be powered by a 2.0-liter Skyactiv-G engine and a six-speed SkyActiv manual transmission. Every component of the car's suspension has been upgraded and reinforced with CUSCO sport coilovers and chassis struts to maximize handling and on-track performance while ensuring drivability on the road.
A special stainless steel exhaust system, developed by local company Drift Xaust, maximizes airflow and enhances the aggressive racing tone that comes from the MX-5's 181 horsepower factory. While the Sparco competition steering wheel, racing seats, harness and safety net, along with a new CUSCO racing roll cage are all installed in each car to secure control and driver safety on and off the track. All MX-5 Spec Series cars will race on GT Radial Champiro SX2 tires mounted on custom 17 x 8.0 J Rota Strike wheels.
Alongside the MSCC Miata Spec Series, Miata Club Philippines members will also run their Miata Cup races on the same race day. The return of the Miata Cup after a two-year absence due to COVID-19 restrictions, cements its reputation as the longest-serving sports car racing championship in the Philippines.