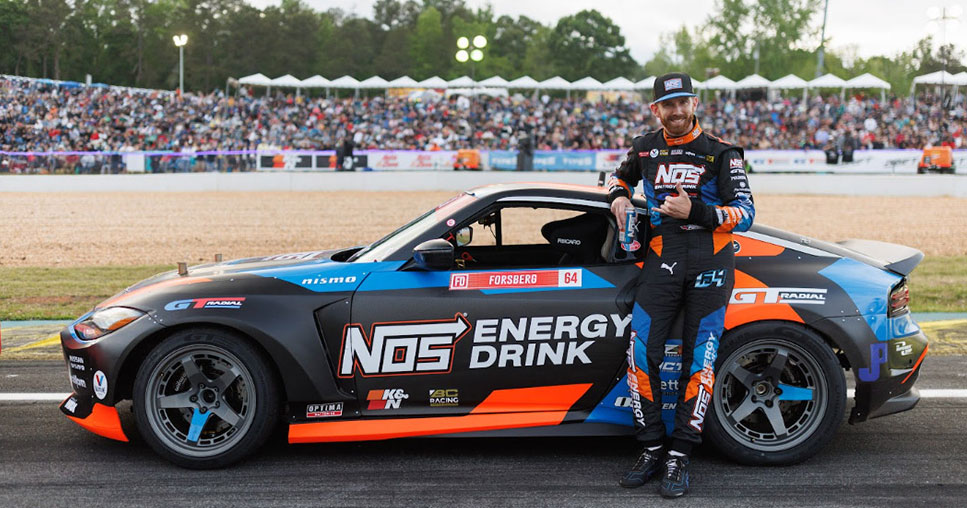 After placing six drivers in the top 12 in Formula DRIFT last year, GT Radial is off to a good start in 2022 with three-time champion Chris Forsberg achieving second place at the Atlanta event on May 8.
Forsberg, who won the Formula DRIFT championships in 2009, 2014 and 2016, is still developing his new NOS Energy Drink Nissan Z on GT Radial Champiro SX2 RS tires. After working out some kinks in Round 1 at Long Beach, however, he looked unstoppable in Atlanta.
Forsberg competed with another GT Radial driver, Dan Burkett, in the Top 8 round. Burkett, driving the RAD Industries / GearWrench / GT Radial MkIV Toyota Supra, ended up finishing an impressive fourth. After besting Corvette driver Matt Field in the Top 4 round, Forsberg went up against last season's champion Fredric Aasbo in the final round. Despite a valiant effort, the three-time champion took home second place and was happy to step onto the podium for some well-deserved recognition.
Seven drivers are competing on GT Radial Champiro SX2 RS tires for the eight rounds of the 2022 Formula DRIFT season. The GT Radial tires were designed and are being manufactured at the company's Richburg, SC, plant. Outreach efforts for the GT Radial Formula DRIFT program will be enhanced for the 2022 season with a new 53-foot stacker trailer and truck that will serve as the main activation/hospitality center for attending dealers, employees and fans at events.
The tractor/trailer rig, which will feature extensive GT Radial branding, will transport Kazuya Taguchi's Toyota FRS under Jerry Yang Racing. It will be fitted with GT Radial TBR tires and will also support commercial tire related events.
"With our four podium finishes last year and off to a good start this year with Chris's second-place finish in Atlanta, we are very excited about the 2022 Formula DRIFT season," said GT Radial USA motorsports manager Mike Meeiem. "We look forward to our drivers competing with the best of them and entertaining Formula DRIFT fans on our American-made GT Radial tires."
In other Formula DRIFT news, GT Radial is returning as the "spec" tire for the PROSPEC Series, which offers an affordable, competitive format for upcoming drift drivers. PROSPEC is promoted at the highest level across all Formula DRIFT social media and online platforms, including its very popular livestream broadcast. The company is adding a pro driver purchase program to support the series.
Formula DRIFT is recognized as the leading international drifting championship. Established on the streets of Japan, drifting has evolved into a worldwide competitive sport that challenges the driver's skill while demanding a great deal from their vehicle in terms of power and strength. Formula DRIFT provides a series for the best professional drifters from around the globe to compete for the coveted title of Formula DRIFT Champion. As the first official drifting series in North America, Formula DRIFT has taken competitive motorsports to the extreme, attracting drift fans and car enthusiasts from all walks of life, and established itself as the global leader for the sport.
Source: GT Radial USA